Last week a new edition of the nutraceutical Nutrivi – Good Life Vital Pro was released. Perhaps you wonder what is the difference between the new and 'old' Good Life. Or perhaps you weren't familiar with the previous version and you are curious about the content of the green box. Let us dispel your doubts. Here are 5 things you need to know about Good Life Vital Pro.
#1 Why was the new formula of Good Life created?
The new  Good Life Vital Pro is the response to the needs of present times. Why do we underline the word ' present' ? Because today life is very often the life in a hurry, full of stress, intensive physical and mental activity. In simple terms, it can give you hard time. External factors such as worsening state of the environment, poor quality of food, threat of civilization diseases are not meaningless. This picture has become the impulse to create more complementary product, the effect of which reacts to the three extremely crucial areas: vitality, well -being and support in the prevention of civilization diseases according to homeostasis assumptions.
#2 What's new in the Good Life Vital Pro capsule?
In relation to the aforementioned,  in the newly prepared composition of Good Life there are plant extracts, known for their effect which supports regaining balance between psyche and soma in the present world. It was the simultaneous, balanced cooperation of extracts on the bodily and mental spheres of human together with creating the so called 'shield' against the  environmental threats in one product, that were the basis to create the new formula.
Next to the golden root, sometimes called 'the best medicine for the shattered nerves in the age of crisis', increasing the metabolism synephrine, anti- inflammatory and antioxidant curcumin with addition of piperine there are extracts from the plants that have been known for thousands of years, mostly in the Far Eastern medicine, for their beneficial impact on  supporting vital strength, improving your well being, and as it appeared long after their discovery, increasing the resistance to 'present times' diseases.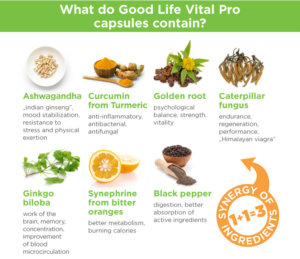 All ingredients  act synergistically  for the common goal, they can get more pursuant to the rule: 1+1=3 🙂
There is ashwagandha known as 'the Indian ginseng' which in Ajurveda is used with success as a tonic boosting your vital and psychic powers, it is also precious for its beneficial cardioprotective function, that is protecting heart work and regulating blood pressure. There is caterpillar fungus, a widely grown in Tibet fungi, whose worldwide career began since The World Championship in 1993 when  the Chinese  athletes (winning 9 golden medals) were suspected of using doping. The accusations were dismissed and the 'guilty' of the genial recovery and resistance to fatigue  proved to be regularly taken caterpillar fungus. In order to improve the work of brain in the formula  appeared ginkgo biloba. Its fan-shaped leaves have been used in the natural medicine for 5 thousand years (it is one of the best studied medicinal products). Flavonoid glycosides and terpenes present in the extract improve microcirculation together with blood flow to brain and thus concentration and memory, they are good antioxidants, too.
Three of the components in the  Good Life Vital Pro (golden root, ashwagandha and Ginko biloba) are so called  adaptogens, that is substances of natural origin, increasing the ability of  adept to changeable  conditions of the natural environment . While curcumin, golden root and caterpillar fungi show the proven anti- inflammatory effects extremely precious in times when cancer takes an enormous toll.
#3 What is not included in the capsule?
In the new capsule there was not enough place for artificial fillers or additives commonly used in supplements available on the market. It is filled with 100% natural ingredients, and it is worth mentioning that their concentration, in comparison to the previous edition of Good Life, increased of 17%.
What does it mean to you? That with every single capsule of Good Life, your body does not  anything apart from the safe, plant extracts, with known, examined effects on the human body, from crops in the natural environment of origin. Even the "technical" capsule components are of natural origin, it consists of fish gelatin and potato starch as an anti-caking agent.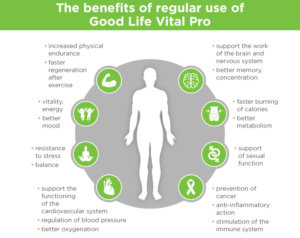 #4 What will new Good Life Pro give you, why is it worth to use it regularly?
More energy– instead of another coffee or full of chemicals energy drink
More strength, better recovery– if you work out in the gym, you will appreciate it more
Resistance to stress – it is not always possible to eliminate it, but our reaction to it – yes
Better memory, concentration at work
Better well- being – which results from the aforementioned areas, when our vitality and psychosomatic abilities increase, get harmonious –our mood also improves
Long-term support of resistance to civilization diseases like: stress, cancer, diseases of cardio-vascular system, obesity
Support of proper sexual functions
#5 Who is the new GLVP for?
For everyone*, who feels that in everyday life lacks energy, concentration or responsiveness. For those seeking harmony, greater resistance to stressful situations. For those who lead intensive life, are hungry for challenge and those who want to find joy  in every day. For those, who in everyday world, take care of their homeostasis  and wish to live in accordance to its assumptions.
* Do not use in case of hyper sensitivity to any  ingredient. Not to be used by the persons under 18. It is not recommended to be used by pregnant women or these Brest feeding.