We say a lot about the fact that healthy, beautiful and young skin is the one that is hydrated. Lack of appropriate moisture content results in the loss of firmness and elasticity, appearance of wrinkles, as well as weakening of skin's uniform structure and tone. It is worth to restore skin's hydration – especially now when temperature changes which it has to endure, take its toll. How to efficiently take care of skin's moisturisation? By using substances created with its perfect moisture content in mind. And created by nature.
Effectively and safety
Hyaluronic acid is building an unquestionable career in cosmetology as a wonderful moisturiser. And there is a good reason why: not only does it perfectly fulfill its duties, but also, as a substance known to human body, it is absolutely safe and is very well tolerated.
What is hyaluronic acid?
Chemically speaking, hyaluronic acid is a polysaccharide which occurs naturally in a human organism, i.e. in the dermis. It is one of glycosaminoglycans acting as a joint, a cement filling intercellular spaces. Along with collagen and elastin fibers it constitutes half of the skin structure supports. Unfortunately, its quantity decreases with age (around the age of 40 there is about half less collagen), which, long story short, manifests in skin ageing. Its properties consist of linking of collagen and elastin fibers and excellent ability to bind water molecules. Hyaluronic acid molecules, just like sponge, can bind a much more multiplied number of water molecules (1 HA molecule can bind ca. 250 water molecules).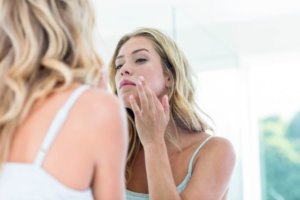 Their anti-aging action is also motivating the skin to produce its own hyaluronic acid, slow down the breakdown of collagen fibers and anti-oxidative activity. This substance shows also a soothing, regenerative effect and stimulates new skin cells formation. What does this mean for the skin? First of all, essential hydration, followed by elasticity, firmness and smooth, youthful surface.

THE ROLE OF HYALURONIC ACID IN THE SKIN:
intensely moisturises
gives the skin firmness and smoothness
has an anti-wrinkle effect (swells and pushes out wrinkles, lines and furrows)
creates proper environment for reactions that occur in the skin, i.e. for the synthesis of collagen and elastin
has an antioxidative effect, fights free radicals
regulates divisions and cellular regeneration of the skin
shows strong anti-inflammatory and healing effects used for healing of injured skin, i.e. after burns
prepares the skin for penetration and action of other active cosmetic ingredients deep in the skin
improves the condition of hair and scalp
Hyaluronic acid in cosmetics
Commonly used as a tool in invasive anti-aging procedures which fill wrinkles and furrows, as well as correcting the shape of lips or nose, hyaluronic acid is also suitable as an active ingredient of cosmetics intended for daily use. It is important, though, that it appears in two forms: as molecules of high- and low molecular weight. High molecular weight hyaluronic acid does not have a chance to penetrate into deeper skin layers, creating a barrier preventing transepidermal water loss and skin's dehydration. Low molecular weight hylauronic acid works in deeper skin layers. It binds moisture which swells like a sponge, sealing intercellular spaces and pushing out the "creases" of the skin on the outside.
Formulation with hyaluronic acid might constitute a stand-alone maintenance, as well as constitute an element of a more complex procedure
Applied as a serum before the cream it works as an express lifting – tensing up, smoothing and improving skin colour. It is excellent in preparing skin before it receives cream's active ingredients. It is particularly worth to use hyaluronic acid during winter, as cold air from the outside, interchangeably with dry air heated by radiators on the inside, drastically deprives our skin of hydration. Using serum with HA in the evening, as an ultrahydrating mask, will bring relief to the dry skin; it will moisturize and soothe it, as well as smooth it out.
How to make Hyaluron Serum work even more effectively?
Hyaluronic acid's hygroscopic nature is always on the lookout for moisture to bind so that afterwards, just like a swollen sponge, it fills skin's structure. For best hydrating and rejuvenating effects the formulation should be applied on a wet skin, preferably treated with a rich hydrolate. And do you happen to know anything that is filled with active ingredients more than a peptide serum?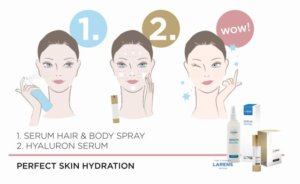 Look at the immediate effects of the application of these two preparations (application on the left hand):