I will be honest! Lose weight definitely and with a very good result. It is too short a time to change your eating habits. This is definitely a longer process that I will write about in the near future. During December you'll lose weight and I am certain of it. Recently, an acquaintance from Ciechocinek lost 5 cm in 7 days. Her effects are described in the support group which I run. If you want to join it, write to me, and I'll give you the full name. The group is free and its goal is to support and motivate during weight loss. But let's return to the main thought of my message, i.e. does a diet carried out over a short time make sense? A lot! By approximately one month we can both gain and lose weight. I won't even ask which is more favourable.
Let's not waste time and go to what we should do to lose as much as possible in such a short time
You should carefully follow my instructions, because I have a proven system and I know that it works. The treatment consists of 3 stages: cleaning, slimming and stabilization. We'll be able to complete the first two stages before New Years. There is not much time, but health should be in first place. I don't want that after a month of treatment that you would be thinner at the cost of your hair, skin and well-being. Then our friendship would end very quickly, and that is the last thing I would want to happen.
The treatment must nourish every cell, then slimming is safe
For the first week you need to consume Slim Food. Look at the ingredients: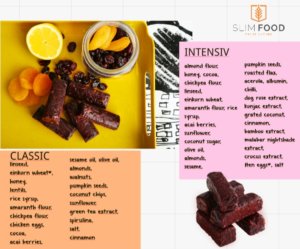 The combination of these ingredients together in the right proportions supplies each cell. The benefits are much more, but here I'll just mention a few. First of all, it is a low calorie and high nutritional value treatment. This is the key to success! In the first week you'll receive the appropriate amount of phosphorus, magnesium and vitamin B9. This is thanks to chickpeas. Next, you will receive the appropriate amino acids such as phenylalanine, tyrosine, methionine and isoleucine. Maybe the names of these substances don't say much to you, but from the viewpoint of losing weight they are invaluable because they care for the nervous system. During the first week Slim Food provides easily digestible protein, calcium, iron, beta carotene and vitamin PP, which during reduction will have an impact on your physical condition. There won't be a lack of good fat and appropriate carbohydrates, necessary for the operation of erythrocytes, adrenal glands and the brain. I am writing this, because you could be tempted in the future to follow the "nutrition fashion" and go on a so-called "sugarless diet". In the long term it is a very unhealthy treatment and people around you will quickly observe above all a deterioration of your mood. With Slim Food acai berries increase metabolism, amaranth assists the work of the intestines and green tea extract in addition to intensifying the fat burning process also has an antioxidative effect.
The advantages of the ingredients in Slim Food Classic I could keep on listing, but I do not want overwhelm you with information. But on the other hand, I want you to feel safe when deciding to take on the Slim Food challenge. The exact composition of the bars you can read here.
How to begin the first week?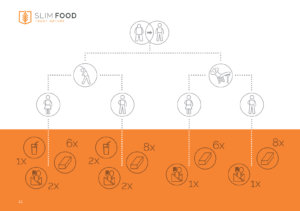 You start from cleansing, i.e. for 6 days you consume 6-8 bars of Slim Food Classic plus one cocktail and/or a meal. How to choose the quantity of bars? See the diagram below [tutaj wykres]. The next 2-3 weeks of treatment you use the second type of bar Slim Food Intensiv.
After you have cleaned the intestines and the stomach returned to its normal size, it is time to increase fat combustion
It is very important to avoid muscle catabolism, i.e. their degradation, which I often observe in patients who have applied a so-called "miracle diet" (such as a cabbage diet). Muscle catabolism is something that for certain you don't want. Its symptom is a soft and weak body. In the treatment which I am encouraging you to use, the muscles will be protected – due to albumin and the right combination of amino acids from plant sources.
The burning of fat from the second week of the diet will be intensified, because Slim Food Intensiv contains in its composition extracts, the impact of which on the human metabolism is known for a long time. Scientists from Wellu joined them in an appropriate manner and strengthened their activity even more.
I will start from extract from Amorphophallus, the activity of which my patients praise. It inhibits the appetite and through glucomannan (an active ingredient of the extract, which is a natural, soluble fibre), which volume increases up to 50 times (by binding water), slows the emptying of the stomach – giving a faster sense of satiety, by affecting the hypothalamus.
The next extract is derived from the leaves of bamboo. I wrote earlier that a good treatment should care for the condition of the skin. Here bamboo leaves have room to show off. This is a "powerhouse" in regards to silica, flavonoids and minerals. Continuing treatment longer, you will be able to observe how your nails become harder and your hair strong and beautiful.
From a dietetic point, special attention should be given to malabar nightshade extract. This is another ingredient that I know gives my patients what is the best and natural. You will find in it: carotenoids, amino acids, lots of vitamins, iron, manganese, potassium, calcium, copper, magnesium and zinc.
How to apply Slim Food Intensiv to make it before New Year's Eve?
You still use it from the graph, but change the type of bars. From the second week it is worth (for an even better effect) starting a workout. What it should look like you can see in the closed group The body that you want with Wojciech Drewski. Use Intensiv for 6 days and with an additional meal.
What does the meal plan look like?
I start from an example for those who can't imagine a day without breakfast. I am also such a type, so I often use these proposals:
7 a.m. Breakfast: scrambled eggs from several eggs served with ham and a bowl of rucola and yellow pepper.
11.00, 13.00, 15.00, 17.00, 19.00, 21.00 – at these times eat Slim Food and drink a glass of water.
Another idea if not you like or do not have time for breakfast:
7.00, 9.00, 11.00, 13.00 is time for Slim Food bars. Then at 3 p.m. it's time for dinner. Base it on vegetables and fish or meat with added fat. I recommend for frying clarified butter or coconut oil. If you want to add raw oil, I suggest olive oil. During the treatment for 6 days I would advise against cereal products (groats, pasta, bread, rice), which you could without problems eat on the 7th day of the treatment. If you like cream soups, I'll share my favourite recipe for pumpkin soup. Just go to the support group on FB and the recipe is waiting for you there. Going back to the meal plan, after dinner wait 3.5-4 hours to again return to the bars.
What if during the day you are not hungry and eating the bars is enough for you, and then in the evening you have a desire for a meal?
This treatment, which I am describing, is flexible enough that you can eat an additional meal when you feel like it. Most often my patients prefer a dinner of fish and grilled vegetables, but there are others for whom boiled eggs are sufficient. I do not want to give you specific ideas, because during the Slim diet Food you will lose weight because you eat the bars, and not what you eat in addition. I suggest though for the nearest time to exclude from the menu: cereals, large quantities of fruit eaten at once, sweets (unless you make them yourself, without refined sugar), cow milk. If you want to know why I propose excluding these products, write to me on the group. The 7th day is free from the bars and it will remain so.
Question: How to eat on the 7th day of treatment?
First of all, this day should be planned in advance, so that old habits won't destroy your week of work. Start from what you want to eat and write it down. Ask someone to go shopping, unless you're ready go to the shop yourself. I would however strongly advise against it. Shops, especially during Christmas time, are beautiful, tasty and colourful. Today you have decided to apply a weight loss treatment, and not work on changing your eating behaviour (including reactions). It might happen that you "submit" in the shop. Is it worth the risk? Is now the time to test your willpower? I would suggest tackling it starting from January.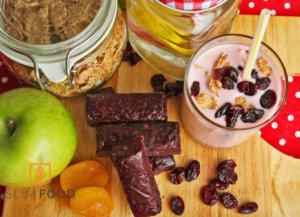 Designed specifically for those who need to work on your will I have prepared a workshop "Head in obesity", but that will be for another time. On the 7th day when you already have a plan and made purchases, I suggest eating every 4 to 6 hours. The portions should be such, so that you will be full. You can last such a long break, when in the meal there is more protein (meat, eggs, fish) than carbohydrates (groats, rice, pasta, bread). If, however, you plan on the day free from bars to eat, for example, rolls or bread, probably the break will be shorter.
In conclusion, I propose a treatment that is above all 100% natural, safe, free from GMOs and preservatives, effective and proven
Below are some pictures of several friends who have undergone such a metamorphosis to which I strongly encourage you. What you will need is one package of Slim Food Classic and 3 packages of Slim Food Intensiv, lots of mineral water, your choice of vegetables, good fat, your favourite meat and fish. If during the treatment you will exercise, you can safely add fruit cocktails.
If you have any question on how to start, I am at your disposal 🙂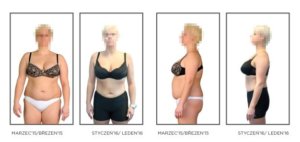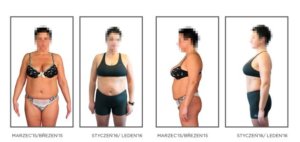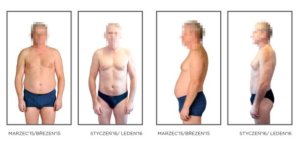 Katarzyna Pryzmont dietician, psychodietion about herself: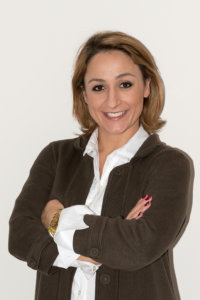 Hello! My name is Kasia Pryzmont and for the last ten years I am a psychodietion. Why "psycho"? Because if a diet alone was sufficient to change one's eating habits, there would not be an epidemic of obesity. The problem is somewhere deeper and everyone who struggles with extra weight knows this perfectly. The problem comes from the "head" or the "heart" and sometimes both of those places at the same time. In my practice, in addition to work on changing the lifestyle, I use Slim Food treatment which creator is Professor Andrzej Frydrychowski. The use of this method required a lot of courage from me, because it turns classic dietetics upside down. I am pleased that I made such decision, and I will add that this was the best decision in my career as dietician.